Amazing Layouts and Innovative Multimedia Options
With our easy online website builder creating wonderful web pages is a breeze.
Layouts
Choose from our more than 30 astounding layouts and give your
website an impressive and professional look.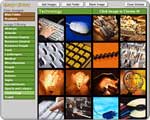 Stock Photos
Our advanced features provide a wide
selection of more than 2000 stock photos from Hemera images for your website.
Multimedia
Tic Tac websites is an excellent choice for advanced multimedia options. Take a look at the amazing multimedia options we offer:
You can add music, videos, flash, PDF and other files and E-books in just a few clicks.
Playing video, flash animations and background music on your website has never been easier.
Your visitors can download songs, videos, ebooks, PDF forms and manuals from your website.
Domain and Email Options
Tic Tac websites' easy online website builder offers a free sub domain (www.yourname.tictacwebsites.com) and also provides you with the option of having your own domain name (www.yourname.com). Our easy online website builder with advanced features:
Comes with five email addresses that reflect your web address.
Lets you add on any number of emails for $1 per additional email.
Lets you send email with your site name in the address.
(Avoid the embarrassment of using free services like hotmail and yahoo that appear unprofessional.)
Text Editors and Templates
Text editing and formatting can be done in a matter of seconds with Tic Tac Websites, even if you don't know HTML. Our easy online website builder with advanced features provides the advantage of two text editors similar to Microsoft Word and one HTML and JavaScript editor.
With our easy online website builder, you can:
Switch between the above mentioned editors anytime. You can edit and format text with no code, but still have the flexibility to add code.
Choose from a variety in design from an extensive library of 1750+ pre-formatted templates Customize the templates with your own text, graphics, logos and color scheme.
Click on different options to change your template any time without working with any coding.
Customer Support
Tic Tac Websites offers five types of customer support which are just a click away from you:
Getting Started" tutorial
Online documentation
Knowledge base
Free online technical support staff comprises experienced website specialists and offers step-by-step assistance. Technical support is available to all customers, at no extra charge, ever.
Smart Help
The most relevant help document is always displayed with the feature you are working on. For example, if you are editing a standard web page, the one-click help will bring you directly to the help document "Getting Started", because it is the most relevant to a web page.

Compatible
Tic Tac Websites is compatible with Microsoft Windows and Apple Macintosh. Our easy online website builder is also compatible with any of these browsers:
Microsoft Internet Explorer
Netscape Navigator
Opera
Any JavaScript Compatible Browser
Compatibility Statistics
Our easy online website builder works with over 97% of computers that access the Internet and virtually 100% of the computers that an average user would have. Anybody that uses Microsoft Windows or an Apple Macintosh can use Tic Tac Websites.
More on Tic Tac Websites Features
For more information on the advanced features we offer, please visit:
For more details on features:
Our Website Builder for business websites provides vital marketing support for generating traffic and converting that traffic into customers.
View the Knowledge Base
View the Documentation
What Are You Waiting For?
Create an amazing business website today with the help of Tic Tac Websites.