Why Us
Here are a few reasons why Tic Tac Websites should be your first choice:
Easy to Use
Are you a newbie with no technical know how?
No worries!
You only need to know how to type a letter and click a mouse to use Tic Tac Websites and your website can be online within 5 minutes!
Get a rewarding online presence instantly with Tic Tac Websites:
Do you own a small-to-medium-sized business and need to connect with your customers and prospective customers over the web?
Are you a self-employed professional who needs to present a professional image to potential customers?
Do you belong to any churches, community groups, clubs, schools, and nonprofits that want a fast, affordable, and easy-to-maintain website?
Do you want to build a personal website to share with your family and friends?
No matter what your website requirements are, building and maintaining your website is a breeze with Tic Tac Websites.
Don't spend money hiring web designers every time you need to maintain your website. With our easy website editor you can change anything, all by yourself, in seconds!
Moreover, we have various types of help and technical support to make using our system even easier:
Getting Started tutorial
Online documentation (33 chapters)
Knowledge base (350+ articles)
Technical support questions are answered within one business day by a team of graphic design and web development professionals who are committed to sharing their skills with you.
Quality
Tic Tac Websites building system is so refined and easy to use, that it allows you to create a high-quality website with no compromises. Tic Tac Websites can help you build a world class website for personal or business use.
Other website builders offer outdated static websites with very few features and boring boxy templates. Tic Tac Websites offer you websites that are fully customizable, great looking, easy, fast, affordable, and powerful.
Astonish your family, friends and business associates and create a great looking website that rivals the look of websites costing thousands!
Weekly Updates
Tic Tac Website is so committed to ensure that our website building system remains the easiest builder available that we make innovative updates and adjustments almost every week. Most other builders only get updated once or twice a year.
Through this process of constant, never ending improvement, you can be assured that your website building system is cutting edge for years to come.
Customizable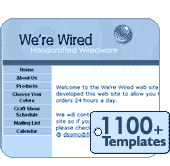 You will be amazed to see how flexible and customizable your website can become through Tic Tac Websites.
You can choose from an extensive library of over 1750+ professionally designed templates that you can customize to make your website look truly unique.
You can also use advanced customization by inserting your own HTML code right within the webpage.
Powerful Features
Some website builders charge extra to include important features that are vital to any website's success like: newsletters, feedback forms, message boards, ecommerce, shopping cart etc. Other website builders don't offer these features at all for any price.
You can have all of the above and many more powerful features for the same low price with Tic Tac Websites!
Over three dozen high powered website features are included with your Tic Tac Websites membership. Your website will not go up in price no matter how many features we add. No other website builder compares or even comes close to Tic Tac Websites!
See the complete list of Features we offer and their details.

Affordable
So how much does the membership of this easy and yet powerful system cost?
Keep in mind that we offer features worth over $1000 included in our price!
But it only costs an amazingly low price of $19.98 per month for the monthly payment plan and $18.98 for the yearly payment plan!
Premium Website Hosting
Tic Tac Websites will host your website for you, keeping it live 24/7/365.
You don't have to worry about your site's server going down in the middle of the night. Tic Tac Websites guarantees 99.9% uptime and backs it up with over a dozen systems to protect your site. Moreover, our reliable hosting services are offered at no extra charge with our website building package.
Free Trial and Money Back Guarantee
Sounds unbelievable, doesn't it?
We are so confident that you will love our system that we will let you try it for free - no strings attached, no credit card information needed!
Just take your 10 day free trial and if you love it you can keep it and get a full 30 day-no questions asked-money back guarantee. If you decide not to continue, simply walk away and it will expire and be removed from the servers.
Why spend thousands of dollars on expensive web designers when you can get your website online in the next 5 minutes all by yourself?

Back to top